Bringing you with the Thai tempations, Barn Thai will never disappoint you with the great choices of Thai fare and promotion throughout the month of December and January. Offering the authentic Thai cuisine, the restaurant brings you with the great choices of Thai Delights where you can have a chance to savour the 4 regions of Thailands includes Southern, Northern, Northeastern, and Central Region.


The promotion also attended by Her Excellency, Miss Saowalak Chaichuson who is the Charge d'affaires a. i, of the Royal Thai Embassy Malaysia, together with First Secretary, Mr. Nattapong Suwanpakdee, Mr. Suwat Kumwong, Director for Tourism Authority of Thailand and Mr. Suttichoke Rodleechit, General Manager for Thai Airways International Malaysia.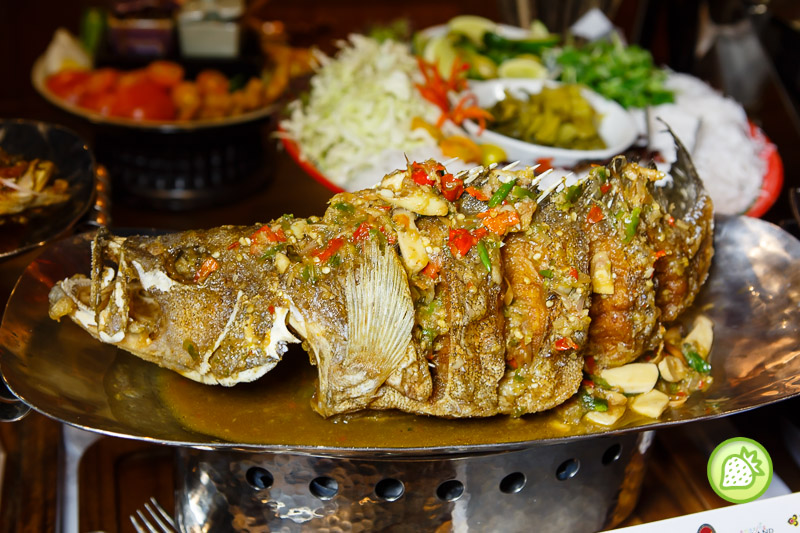 Here we go where they have the variety of Thai authentic delights to be enjoy. Barn Thai features their famous Pla Sauce Tom Yum Hang where you can find the awesomely delicious deep fried whole grouper fish together with the tom yum herbs as well as the shimeji mushrooms with it. The spicy sensation is incredibly good where I can say I give it a 2 thumbs up on this.


Not just that the Pad mee Korat comes good too. We enjoyed the how the traditional wok fried noodles is being prepared. The delicious wok fried noodles originated from Nakhon Ratchasima is bringing you a springing taste of the noodles itself.


Sai Oua Gai which is the northern delights brings you with the creative dining experience. Instead of chicken meat, Barn Thai made a twist of its delicacies with the minced chicken sausage. with the green curry which brings a spicy blend of temptations.

Not to forget is the Kaeng Som Cha Pla Kra Pong which is another highlights in the promotion. The deep fried whole sea bass with is served with the edible flowers, acacia omelet with hot sour curry soup. The seabass comes not too spicy bit the crispiness of the seabass skin is there. Every mouthful comes deliciously good.
Nam Prik Ong Nam Prik Noon is one of the unique delicacies from the Northern Thailand. The hearty portion of delights is well served with the with garden vegetables, chicken cracker, hardboiled egg and stuffed bamboo shoot. It is such a great delights to be enjoyed here too.
Do take note that Barn Thai currently runs instagram contest and public still stands a chance to win return tickets to Bangkok. Hashtag #barnthai on instagram whenever you dine in and this food promotion from the 4 regions of Thailand runs from 1st Dec to 4 January 2015. Good luck.
Barn Thai is located at:
Ground Floor, Plaza 33,
1 Jalan Kemajuan, Section 13,
Petaling Jaya, Malaysia
Tel: 03-7932 2233
GPS: 3.1095475899, 101.6377780
Website: http://www.barnthai.com.my/
Facebook: https://www.facebook.com/BarnThai
Live band available every Thursday night.