Water Lily is located right on the edges of Aman Suria, Bandar Utama and Tropicana. Basically when you're coming out of the Tropicana tunnel towards Bandar Utama, it's on your left about 800meters away from the tunnel. The restaurant is basically a classy romantic restaurant to dine with the big portion of food. The restaurants also is furnished with wood and the waiter and waitress are well service to customer.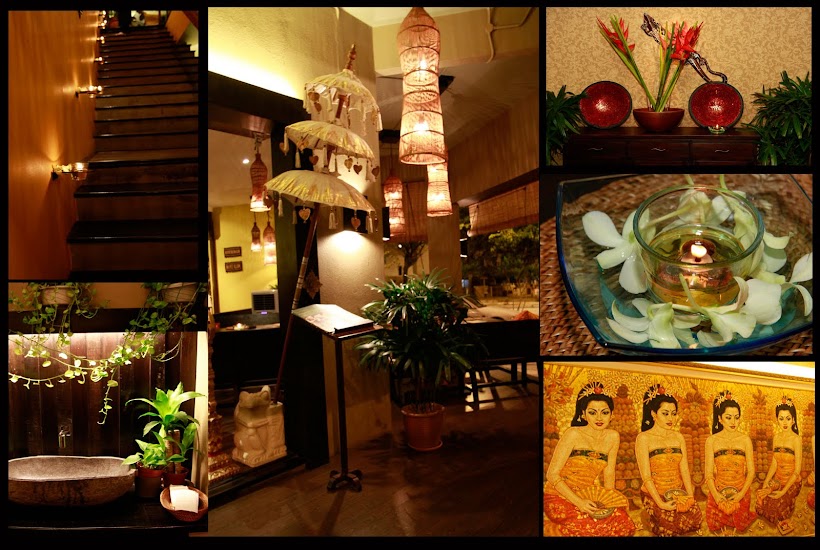 Cumi Cumi Goreng: It is the combination of deep fried small shrimps, and chicken slices as well as squids. It is being deep fried and served with coleslaw or Thai chilly sauce
Taste: 4/5
Price: RM 14.00
Chicken Strips: The chicken strips are being deep fried and served with Thai Chilly Sauce
Taste: 4/5
Price: RM 13.00
The Waterlily Trio : The combination of Waterlily BBQ Wings, Saste Lilit and Cumi Cumi Goreng. Served with Sambal Matah , Sambal Terasi and Tartasr Sauce. It is said to be the ideal set for drinkers. The portion was a big one indeed and the sauce is also quite spicy
Taste: 4/5
Price: RM 33.00
Nasi Campur Waterlily – Combination of Balianese Grilled Lemongrass Prawns, Squids, Fish and a choice of Beef or chicken rendang, sate lilit, served with Lawar, Sanbal Terasi and Sambal Matah
Taste: 4/5
Price: RM 31.00
Grilled Chicken Chop – The chicken meat which is on the thigh is well grilled and served with potatos, coleslaw and corns.
Taste : 4/5
Price: RM 23.00
Grilled Salmon Steak – Marinated with authentic Balianese Lemongrass Marinate and Grilled to perfection , served with mixed Greens , a watermellon and waterlily brown gravy.
Taste: 4/5
Price: RM 26.00
Fish & Chips: Deep fried dory fish till golden brown. Served with fries and coleslaw as well as a generous portion or tartar sauce
Taste: 5/5
Price: RM 24.00
Seafood Platter: A generous portions of Grilled Dory Fish, Fresh prawns and squids
Taste: 5/5
Price: RM24.00
Grilled Lamb Chop- Lamb Chop being grilled till three quatter cooked. The lamb is soft and delighting
Taste: 5/5
Price: RM 32
Sour Virgin Margarita: Mixture of Lemon, Lime Juice, Monin Triple See served in Glass with Salted Rim
Taste: 5/5
Price: RM 11.00
Lemon Grass Mojito: Monin Mojito tapped with Soda, calamasi, garnished with Mint leaf and a stick of Lemongrass
Taste : 5/5
Price: RM 11.00
Iced Passionfruit Mint Tea : Red Tea, Mint Leaf, Fresh Lime Monin Passionfruit and Mojito Syrup
Taste: 4/5
Price: RM 11.00
Avagadro Milkshake – The avagadro is blended with ice and added with milk and thick chocolate.
Taste: 5/5
Price: RM 10.00
Sushine Beer: Chilled Beer, Fresh Orange Juice and Monin Passionfruit Syrup
Taste: 4/5
Price: RM 13.00
* All prices are subjected to 5% government tax and 10% service charge.
Address:
The Waterlily Contemporary Balinese Bistro
116G, Jalan Mutiara Tropicana 3, PJU 3, 47410 Petaling Jaya, Selangor.
Tel : 03-78036603 (Call to book)
Operation Hours : 11am till late.
Food Type: Halal
Payment Options: Cash & Credit Card