Piccadilly Restaurant located at the Millennium Square at Section 14 PJ (near to Digital Mall, Jaya 33). A reasonably restaurant with very cool and relaxing atmosphere. Piccadilly offers a wide variety of food, from Oriental, to North Indian, Western and Japanese Cuisine, they have it all. They have a large variety o food but as for service wise, the service is kinda poor.

Sizzling Chicken Chop Grilled- Served with Sizzling Hot Plate with Mix Vege and Fries. You may choose to have choices of Mushroom or Black Pepper Sauce.
Taste: 3/5
Price: RM 10.80

Vietnamese Prawn Noodle- It comes with half dozen of it where the prawn rolls are being deep fried and served with special sauce.
Taste: 2/5
Price: RM 4.90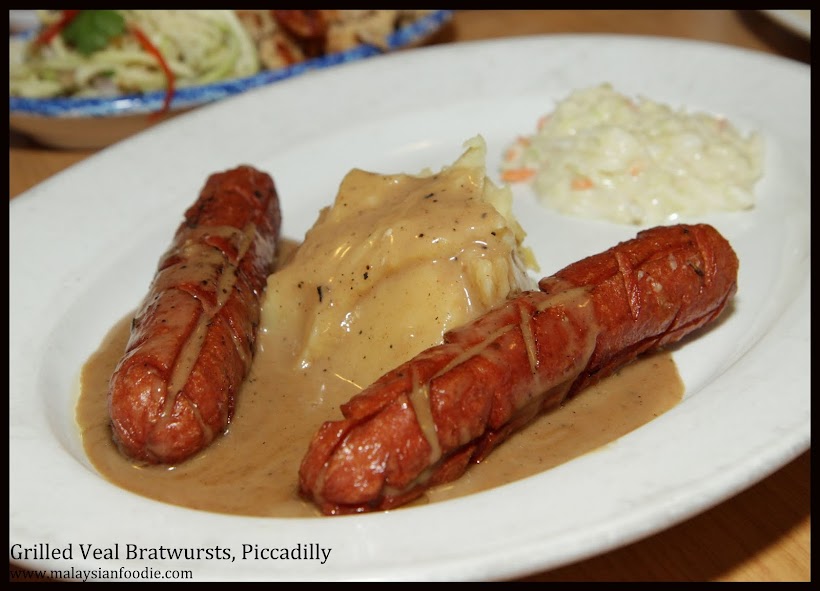 Grilled Veal Bratwursts- It comes with 2 pcs of Grilled Veal Bratwurst Sausage served with Coselaw and Mash Potato. The delighting food comes with mushroom and black pepper sauce to be chosen.
Taste: 2/5
Price: RM 11.80

Gai Tod Krop Yam Mamuang- A combination of crispy fried chicken and served with Mango salad ( Thai most famous appetizer)
Taste: 3/5
Price: RM 7.90

Bangkok Pineapple Fried Rice- Fried Rice with Pineapple, chicken meat and prawns, egg and Long Beans. A big portion of fried rice and it can be served to two person.
Taste: 2/5
Price: RM 5.90

BBQ Chicken Chop- Grilled served with Fries and Coleslaw topped with Homemade BBQ Sauce. The taste is simply delighting and temptating as well.
Taste: 4/5
Price: RM 9.90

Grilled Fish Fillet with Lemon Sauce- Filelt of John Dury Fish from Deep Waters of South Pacific, smothered of Lemon and Butter Sauce Served with Salad and a generous Serving of French Fries.
Taste: 4/5
Price: RM 11.90

Nata De Coco Sea Coconut- served with sea coconut and nata de coco. Not a nice delights as too sweet.
Taste: 2/5
Price: RM 4.90

Red Ruby- Served with water chestnut and little green jelly on ice blended ice and poured with syrup. Yucks .. the worst I ever tried
Taste: 0/5
Price: RM 5.90
LOCATION
Piccadilly Restaurant
LG006 & LG007,
Millennium Square,
Dataran Millennium PJ,
98, Jalan 14/1, 46100 Petaling Jaya.
Tel: 03-7960 5886