In the advent of the season of togetherness, goodness and patience, Hilton Petaling Jaya ushers in Ramadhan by presenting you their tempting and delicious biffet spread at the famed Paya Serai Restaurant.


Beginning of 28 June till 27 July 2014, the hotel culinary team of 13 chef will present to you their rare local delights where you will be tempted till the fullest when you enter the restaurant. With the culinary team under the direction of Chef Ridzuan Malek, the executive chef backed with over 20 years of experiences in renowned hotels; rest assured with the buffet spread tha boasts a plethora of local specialities authentically presented in "kampung style stalls and live cooking station.


Serving one of the BEST Iftar buffets in the states, Paya Serai Restaurant is ready to greet this year Ramadhan with the aromatic and tantalizing Malaysian Favourites with consisting of the platters of delights from Malacca, Penang, Perak Kedah and Johor to name a few.


Started with the Asian delights of salad, do pamper your self with huge platter of the appetizing kerabu or salad where they have the sourish spicy Vermicelli Seafood Salad, Som Tom Malakor, Kerabu Ikan, Kerabu Jantung Pisang, Kerabu Pucuk Paku and more. If you looking for some western style salad, Paya Serai do have them too with the choices of Tomato Wedges, Trio Bell Pepper, Lola Rosso and more. Dipped them with the variety of sauce like Thousand Island, Italian Blend Sauce and more.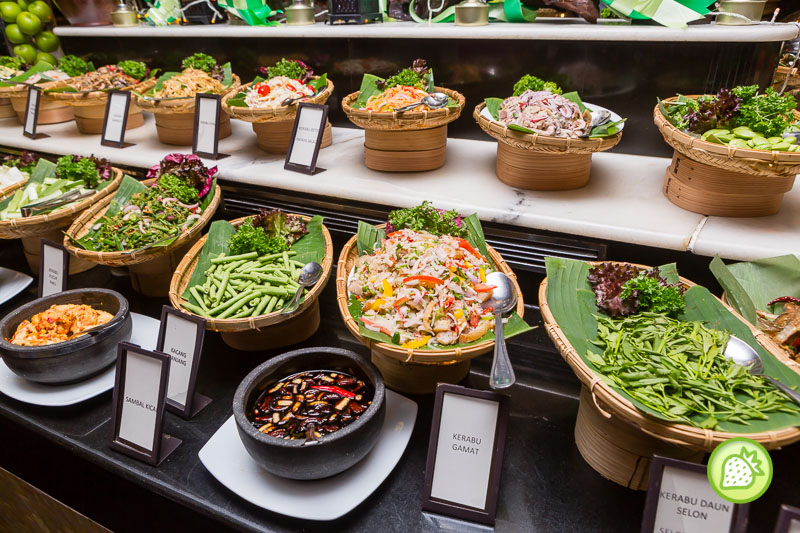 Ulam is usually something to look for in Ramadhan Buffet. Comes with the traditional ingridients from Kacang botol, pegaga, selon, daun Ceylon, ulam, daun pegaga, kacang botol, kacang panjang, kerdas,petai and more. Dipped them with the pencencah ulaman to give you the kick of spiciness in it where you can dipped them with some sambal belachan, cencalok, budu, sambal nanas, sambal manga and more.

Not to be missed – The Japanese Counter (Konbanwa) welcoming you with loads of Assorted Maki and California Roll.


They do have the nasi kandar counter where you can find loads of the Penang Speciality here. From Daging Masak Hitam, Kobis Goreng Kunyit, Kari Kepala Ikan, Sotong Goreng Bijik Sawi, Daun Karipolley Dan Bawang, Telur Dadar and Papadom. Drenched your rice with the creamy spicy gravy and add with loads of ingridients on top. Nice!


Other than nasi kandar, they have the local noodles stall where they have the Nyonya Curry Laksa, Laksa Asam, and Mee Bundung.
Little India Counter in Paya Serai comes with our Malaysian favorites. Roti Canai, Roti Jala, Murtapak Ayam & Chapati, Lempeng Kelapa is something not to be missed too. Add them with the spicy gravy like Chutney, Kari Ayam or even their special Serawa Durian. Not only that, do try the chef's signature Gulai Daging Campur Dengan Umbut Kelapa, Cabai and Tomato Muda. It is really good and enjoyable with the dipped of roti canai with it.

Not to missed is the Satay Kajang where you can try the awesome skewers of satays which include beef and chicken and you can served with onions, cucumber and rice pattie. Aside from the satay corner, be sure to drop by the Apa Ada Dipanggang corner. At this corner, do grab any of the delicious tempting barbecued delights like Kambing Panggang, Chicken Tandoori, Ayam Golek Percik and more. As for the Charcoal Grilled corner, you can pamper your self with seafood too where they have the cencaru, ikan pari, squid, kerang and more. Not to forget, the kepak ayam madu which are some of my favorites in Paya Serai.


They also have the Arabian counter too for those who love to get a try of the Arabian delights. Enjoy their Chicken or Beef Shawarma which is one of the famous delights in Arab. It is being served together with the mint yogurt, roasted garlic mayonnaise, mango chutney amd more. Hummus Di Tahinih , pita bread and Tomato Cous Cous is available to try as well.
After enjoying the heavy delights, do go for some desserts as well where Paya Serai offers a wide variety of desserts to try. Try their Layered Jelly in Glass, Caramel Custard, fruit tartlet, pavlova with fruits, mini mango cheese, mini black forest, lemon meringue, crème brulee, crucomboush on tower and more.


If you love to get some Malaysian nyonya desserts, they have them too with 6 types of choices as well.
Variety of bubur kampong is available rotated dauly from bubur kacang hijau dengan durian, pulut hitam, pengat ubi dengan sago, pengat pisang and more.


Ais Batu Campur is something not to forget when you visit Paya Serai. With 20 choices of condiments to add on, it is sure that get your own choices of favorites of ABC.


End with some Apam and Putu Mayam for some sweet temptations.
If you looking for fruit, the wholesome platter of fruits is available like honey dew, watermelon, papaya, guava, nangka and more. Malaysia "king of fruits" is also welcoming you this ramadhan where it will be served at the hotel's porte-cohere are every night through- out the fasting month.
To add to the Ramadhan "Buka Puasa" festivities, patrons will be entertained by an enchanting stroller performance of local traditional music group from Bale Bale Entertainment.
The Ramadhan Buffet Promotion runs from 7pm to 10 pm daily andit is priced at RM 119++ per adut fir the first three days ( 28-30 June) and the last five dats (23-27 June) of fasting month. For the following days (1-22 July) , the buffet promotions are priced at RM 139++ per adult and RM 79++ per child. (*children below 12 years old)