I had read through many blogs which give a compliments on the restaurant and my recent visit there had give me a very big disappointment. Kissaten by the name looks like is Japanese restaurant but is is actually a Fusion restaurant. The restaurant is located at Jaya One which they have a small enterance just opposite Brussels.
We had a disappointment is basically due to the food. We had made an order of the Tea Time set and a deep fried shrimp to be tried off. We had waited for half and hour and seems there is no one serving any drinks on the set and we again request for our meal again. We had see many tables after us had been enjoying their last bite but we had not tasted anything at all yet. We called them a few times but there is no one serving us at all and ignore us. We had asked again for the final time for the food and they asked us to hold on for 5 minutes. We keep waiting and after 15 minutes we asked again as well, and they replied us that the Tea time set need to be wait for 30 minutes to be served. Gosh… I had this bad experience and we had payed for the two drinks as reviewed below and walk off.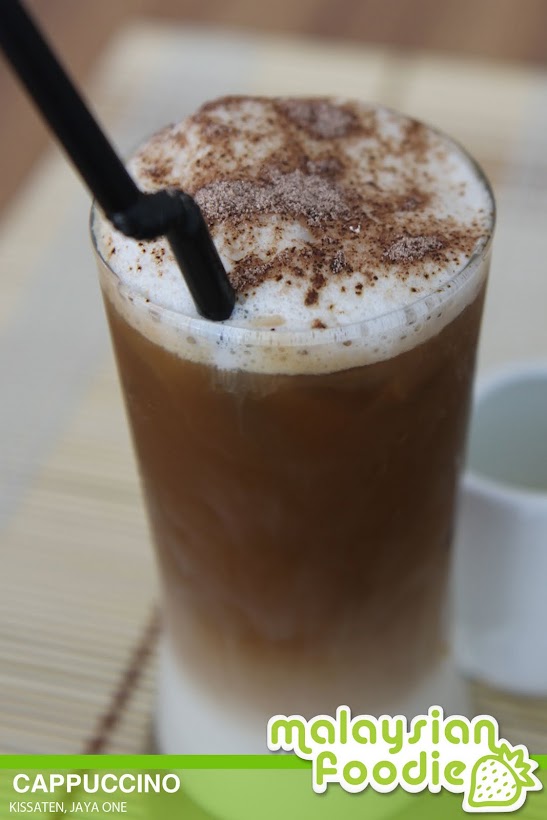 Cuppuchino is a nice one and it is served with nice beans I supposed. The Cuppuchino is very pure and they provide you with a cup of sugar syrups to be added.
Taste : 4/5
Price: RM 6.90
Ice Lemon Tea is indeed refreshing .
Taste: 3/5
Price: RM 6.90
P/S: I think they should inform us earlier on the waiting time before we ordered the meal. I don't think i will walk in agian with the poor service provided.
KISSATEN Coffee and Restaurant
L12A-1-1, Palm Square
JAYA ONE
72A Jalan Universiti
46200 PJ
Tel: 03-7954 1990
Opening hours: 11am – 11pm daily (Closed Mondays)